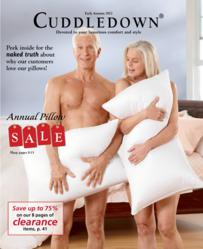 Portland, ME (PRWEB) August 22, 2012
Quality, US bedding company Cuddledown became involved in the latest eye of the beholder imbroglio with their Fall 2012 catalog cover, featuring a boomer-aged couple dressed in their Cuddledown pillows.
Best known for their high-end US-made bedding, Cuddledown created a humorous cheeky catalog cover to promote their annual pillow sale all in good fun and with the hopes that it would catch peoples attention. "We expected a few might be offended, as it wasnt a typical bedding cover, but we were surprised at the vitriol our customer service representatives were subjected to. They felt that many of the comments almost appeared to be a campaign, due to the similarity, with the primary theme being the 'pornographic display' appearing without warning in customers mailboxes," said CEO Chris Bradley.
Customer comments included statements such as the following:
DISGUSTING and SMELLY! POOR TASTE!, People rubbing pillows on their, what appears to be, naked private parts, NASTY and GROSS!, It is nasty, yucky, vulgar, disgusting, sluttie, muttie., Its soft porn. FILTH!, It is the most ugly tasteless photo I have ever seen., Vulgar, disgusting and immoral., Crude and X-rated., Should be wrapped in a brown paper bag as it is Porno someone ought to be fired., This looks like he is doing something and shes watching., Absolute pornography and I am ashamed to have it in my home., I do NOT appreciate classless nudity 'gracing' the cover of the catalog I received today; I'm embarrassed in front of my postman., I certainly hope the two pillows used in the photograph have been given to the models for their personal use — speedos or bikinis not withstanding [sic].
What really surprised the staff were the comments directed at the age of the attractive and in-shape, 60-something-year-old models — since Cuddledowns customer demographics focus on boomers and on up:
Disgusting magazine cover with the two naked old farts., Who wants naked, old people in their home?, I am 60 years old so my aversion to this cover is not based on age discrimination, I probably would have felt doubly disgusted if I were younger., Whos the genius that thought two gross old people would sell merchandise?, Who is the OLD man on the cover of your Early Autumn 2012 catalog? I'm older, but he is too old for me!, How in the world did you think wrinkled old people and varicose veins is a good way to sell merchandise? Disgusting!, I am not a woman's liber [sic], but I do detest seeing a young girl who could be my daughter's age with a viagra guy., I don't need sexual images coming to my mailbox so my kids can ask me why a Grandpa is naked on the cover., Sending a cover that shows your customer the younger women her husband ran off with was stupid. I cant even imagine how many women youve angered by rubbing it in their faces this way. I bet youve lost a lot of business by such an insensitive, juvenile approach. Obviously a man came up with this idea!
Ultimately, Cuddledowns Pillow Sale has been as successful if not more so, than last years, and of the 1.3 million catalogs mailed, only around 200 comments were received. Although the company isnt planning another pillow cover up shoot in the immediate future, they wont rule it out. As one customer put it:
Actually, just my opinion, no body parts are even peeking on either person. I also like seeing mature models complete with grey hair instead of very young models. I think the cover represents boomers who can still enjoy life in all its aspects. I thought it was in good fun. Everyone is entitled to their opinion.
Cuddledown, a family-owned company located in Maine, has been making and selling the finest in home fashions, apparel and more since 1973. They manufacture their down and synthetic comforters, pillows and featherbeds in the U.S., and also offer bedding and linens, sourced from the finest mills worldwide. Cuddledown also sells quality sleepwear, apparel and footwear, plus home d